Lentil stew recipe
During fasting periods it is sometimes quite a challenge to invent some dish just as tasty and tempting as the dish of the rest of your carnivorous family. This time I choose to prepare a lentil stew. Prepared "the Bulgarian way" with leek it is a must taste dish.
It is December and a lot of people in the Eastern Orthodox world are practising the 40-day Nativity Fast. In the Western Christian practice, it is called Advent. Next to Christianity fasting has been part of many other religions in the world.
And while the historical background of fasting is certainly quite interesting I am more interested in the practical aspect of it. I must admit I have never been practising fasting before. Until this year,  when I have decided just out of curiosity to give it a try.
On day 40 of my fasting period, I must say for me it was quite easy to do. And maybe I will consider adopting more meat-free and dairy-free days every week. There are of course sometimes moments that I see some delicious yummy piece of fish or poultry and my brain says that I can't let it go. The more interesting part is that despite the business of this time of the year and the late nights these days I don't feel that tired and exhausted. Even after a day of hard work I still feel full of energy. Moreover, I don't feel so cold anymore. You know there are people who are always complaining they are cold. Especially in the winter period. Cold-blooded I call them. So, I used to be one. But this last month this does not bother me anymore.  I am wondering whether all this has to do with fact that meat- and dairy products are no gone for me these 40 days.
The more difficult part for me is to figure out what could I eat while the rest of the family is enjoying a delicious piece of meat. Next, to the vegetarian dishes, I often prepare they do also enjoy a juicy and tender piece of chicken or salmon. 
And because this dish is so tasty, easy and healthy too I want to share this lentil stew recipe with you: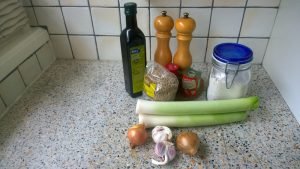 You will need the following ingredients for your lentil stew:
– 2 teacups lentil
– 3-4 garlic cloves
– 4 tbsp. olive oil
– 1-2 leeks
– 2 tbsp. flour
– 1/2 tsp. paprika powder
– 1 tsp. tomato paste
– salt
– savoury
This is how you proceed:
Clean the lentil thoroughly, wash it, add 4 teacups of cold water and 1/2 of the olive oil and put it to boil. Let it cook for about 20 minutes.
Wash and cut the leek. Stew the leek with the rest of the olive oil and a bit of salt. When the leek softens add the flour, tomato paste, finely chopped garlic and a bit of the lentil stew.
Add the leek to the rest of the lentil stew with a bit of salt and let it cook for 5 more minutes.
Remove the stew from the fire, sprinkle with the finely grounded savoury and keep it warm with the lid on top of the pan.
You may serve it warm with a bit of sour cream on top.
Enjoy!
_______________________________________________________
Tip!  You can choose to add some sausage to the dish. It is delisious too. But, then you have to serve it on another occasion and not when you are fasting.
What is your favorite recipe for a vegetarian stew?