Soft curd cheese buns
Baking with soft curd is a lot of fun, yes but it is complicated and takes a lot of time. Well, it does not always have to be complicated to prepare something tasty. And what about the latter, well, I do admit that if you are fed up with the pink cookies and other sugar bombs from the supermarket you have to invest a bit of time. Not much, and the result is delicious!
So, let it be said, let it be done. It will be soft curd cheese buns this time, delicious, healthy and easy to make.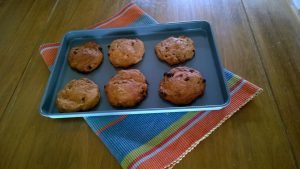 These are the ingredients you need:
– 2 eggs
– 80 gr. brown sugar
– 250 gr. soft curd cheese or greek yoghurt
– a pinch of salt
– 1 tsp. baking powder
– 375 gr. whole wheat flour
– raisins as desired
– possibly cinnamon
This is how you proceed:
– Heat the oven to 220 C
– Mix the eggs with the sugar foamy. Add the soft curd and stir well.
– Mix the wheat flour with the baking powder and the salt. Add this mixture bit by bit through the egg-curd mixture.
– Mix the raisins through the dough.
– Make 10 rolls with 2 spoons on a greased (or coated with baking paper) baking tray.
Turn the oven back to 200 C and bake the cheese buns for approx.
Enjoy!
__________________________________________________
And a tip. You can also put them on the table in the morning as breakfast 🙂