Why do we have to save the bees? 10 practical ideas on how you can help these small workers.
Have you ever heard that the bees are dying out?  In this article, I will give you a few practical and simple ideas of what you can do to save these small workaholics, the bees.
Have you ever asked yourself what if all fruit and veggies you eat disappear? What?! You are talking about science-fiction. Or you may think something like: "So what,  I am anyway not such a fan of all these greenies". Well, my friend, I wish you were right and this was just a gloomy scenario of a science-fiction movie. But, the sad thing is that might become a reality if people manage to get rid of the bees. Yes, that's right. All over the place called Earth, the bees are dying out. These guys keep our whole food system in balance. So you know no bees, no greenies, no greens' no me and no you. Even if you are not into it you need these, all of them.  
So, what can you do to keep it a just as gloomy scenario of a science-fiction movie and not a real life one?

Why are the bees so important for you?
Could you have a look at your dinner table and tell where the food you eat comes from? Any idea?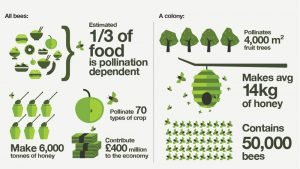 According to the Guardian:
"Bees pollinate a third of everything we eat and play a vital role in sustaining the planet's ecosystems. Some 84% of the crops grown for human consumption – around 400 different types of plants – need bees and other insects to pollinate them to increase their yields and quality. These include most fruits and vegetables, many nuts, and plants such as rapeseed and sunflowers that are turned into oil, as well as cocoa beans, coffee and tea."
But as this is not convincing enough it appears that " Seeds, fruits and berries eaten by birds and small mammals are all from plants that are pollinated by bees, making them guardians of the food chain and the biodiversity of our species."
"If the bee disappeared off the face of the Earth, man would only have four years left to live." Albert Einstein
How come the bee is dying out?
The honey bee is disappearing globally at a large scale. This is mainly due to the massive use of pesticides, but also because of parasites, disease and habitat loss. The introduction of pesticides called Neonicotinoids has led to that many farmers have  lost entire hives of bees overnight. According to a study of French researchers, these chemicals confuse the brains of the bees and make them unable to find their way back to the hive. British scientists have come to the conclusion that the use of pesticides leads to smaller colonies and reduction of the production of new queens.
Can we save the bees?
According to Greenpeace, there are few key things to this.
To ban the most dangerous pesticides.
Protect pollinator health by preserving wild habitat.
Restore ecological agriculture.
One big problem to this are companies such as Bayer, Monsanto, DuPont and Syngenta which  control nearly 100% of the world market for genetically modified pesticides, plants and seeds. These corporate polluters will not easily let go of their profits and will keep paying big money to steer the public opinion astray and buy immunity to their commercial compounds.
Is someone already doing something to save the bees?
The nation of Bhutan has led the world in adopting a 100 per cent organic farming policy states Greenpeace. Mexico has banned genetically modified corn to protect its native corn varieties. Eight European countries have banned genetically modified crops and Hungary has burned more than 1,000 acres of corn contaminated with genetically modified varieties. In India, scientist Vandana Shiva and a network of small farmers have built an organic farming resistance to industrial agriculture over two decades.
France is the first country in Europe to ban in 2018 all five pesticides killing bees. They stop using these not only outdoors but also in greenhouses.
In the Netherlands, the whole month of April is dedicated to the public campaign Nederland zoemt. The idea behind this country-wide initiative is to gather the efforts of different environmental organizations, municipalities, businesses and citizens to preserve the wild bees in the Netherlands. The pollinators is a Dutch organization whose core goal is to take action to protect the pollinators in the country.
You too can help to save the bees. Here is how.
Grow more native flowering plants. Ideal are flowers such as crocus, clover, borage, viper's bugloss and Verbena bonariensis. The dandelions 'weed' is one of the best flowers for bees. Choose for heirloom plants which your grandparents might have planted in their gardens. By hybridization, many flowers are not suitable for a healthy garden ecosystem anymore.
Grow herbs. Bees adore them!
Grow some vegetables.  Broccoli, radish, and cauliflower blossoms are a hit!
Buy locally grown, organic produce if it is available and within your budget.
If you eat honey buy it from local beekeepers when possible.
Grow climbing plants- those that flower and fruit will feed bees and birds as well as provide shelter.
In dry weather, leave a dish of mud for mason bees to line their nest cells with. Leave also a dish with fresh water and a cork or stone to land on.
Grow fruit spring-flowering trees like apple, pear, plum and cherry.
Hang a solitary nest box, also known as a 'bee hotel' in your garden or balcony.
Stop completely using pesticides and weedkillers!
Conclusion
So, what do you think? Now that you know we can't manage without them can you manage to help to save the bees? After all, it is not only about me and you and the rest of the people we share this planet with at the moment. It is about my kids, your kids, it's about the future of us all. So, it is time to shut down your computer or your TV, get outside and just roll up your sleeves. Look around, think about my tips and ask yourself what could you do to help these little fluffy yellow buddies to keep buzzing around. Any tips from your side?