Chocolate truffles with dates and raw cocoa powder recipe (no sugar added)
I love chocolate and chocolate truffles. I am crazy about a delicious piece of Milka. It melts on your tongue and gives you such a nice feeling of mmm … Do you also like chocolate?
A piece of good chocolate from time to time is okay I think. Only after one piece usually comes another one, and then the next one comes, and … Well, before you know it, half of the chocolate bar has already disappeared in your mouth. At least with me. But, it is not just tasty. A bar of delicious milk chocolate is chock-full with, yes you guessed it, of course, sugar. In 100 gr. delicious Milka bar next to the milk and 30 gr. cocoa you have about 58 gr. sugar. And that's not a good news. 
 I can remember some time ago that the monkeys in a zoo only would receive certain kinds of fruit and not even every day. Otherwise, they would get too much sugar. And people feed their children with tasty colourful sugary sweets. Often even with a shape of a fruit. Is this not strange? But this is another subject.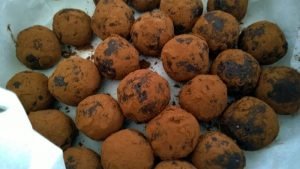 Today I want to share a recipe with you. A recipe for tasty truffles without added sugars. Only the sugar that is in the fruit, dates and cranberries in this case. You may take something tasty in my opinion, only you better leave the added sugars.
You will need the following ingredients:
– 20 dates
– 2 tbsp. dried cranberries
– 4 tbsp. raw cocoa powder
– 2 tbsp. linseed oil
– 2 tbsp. unroasted pecan or walnuts
– 1 tsp. ground cinnamon
– food processor
This is how you proceed:
Put the dates and cranberries in the food processor and grind them. When a ball occurs add the oil and half of the cocoa powder, nuts and cinnamon.
Roll up this mass of small balls and place them on a plate. Put them in the fridge for 1/2 hour.
Sprinkle the rest of the cocoa powder onto a plate. Roll the balls through the cocoa until they are completely covered. Keep your healthy chocolate truffles in the fridge.
Enjoy! One truffle at a time:-)
______________________________________________
Tip! Delicious with coffee and tea.