Plastic waste: "It's time to put a freeze on plastics"
Have you ever noticed while you are walking on the beach how much plastic waste is lying everywhere around? Have you ever googled on plastic waste? According to National Geographic, there are eight million tons of plastic dumped around the world every year. According to a study of Science, on every three meters of the coastline, there are lying about fifty shopping bags full of plastic. The worst thing is that it is expected that if we all go on like this, these figures will increase ten times in ten years! National Geographic shows us in a video what disastrous consequences the pollution of the ocean has on climate change and the warming of our planet Earth.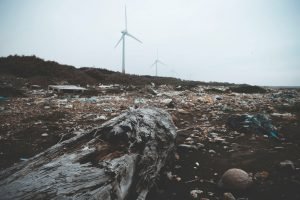 What do we want to leave behind to our children? Not a dump of plastic waste I guess
"Dear supermarket, I FEEL LOUSY !!!!!… Before I can get to my carrot I first have to remove a tricky piece of plastic." my friend Hannie writes in a letter to the supermarket where she does her daily groceries.
"You, as a large multinational company, can have a big influence in improving our future. … and … … a good example is being followed by others, so GO FOR IT… I trust that the problem about our future on the Earth will be taken seriously. The Earth where our descendants may also have a beautiful life. Without compromising the environment, without thinking only about profit and money, but an honest commitment to our people. "
Each cucumber in a jacket:-)
"It's a good thing that you're so concerned about the environment, Hannie," replies the supermarket. "We no longer use biodegradable/compostable plastic with our organic assortment because customer research showed that almost no one disposes the biodegradable plastic packaging  by organic waste." We decide per product whether we have to pack it. "Reasons for packaging are, for example, because it benefits the freshness or because there are customers who find packaged products more hygienic. "
Iceland, in the United Kingdom, calls a halt to all plastic packaging to reduce the plastic waste
Some time ago I read in an article that Iceland, a supermarket chain with 700 stores in the United Kingdom has decided that until 2023 all plastic packaging of own-brand products will belong to the past. One of the managers Richard Walker cites the Blue Planet series by David Attenborough, which shows how disastrous the effects of the pollution of the ocean are.
"Clearly someone needs to act – so why not us?" Says Richard Walker. The good news is that not only Iceland is well on its way to plastic-free stores. Tesco, Asda, Aldi, Co-Op, Lidl and five other chain stores in the UK also have similar objectives.
On own soil. Petition against unnecessary plastic packaging in the supermarkets.
Unfortunately, the Netherlands is not at the forefront when it comes to environmentally friendly packaging and instead of educating customers, profit is leading. However, there is a growing awareness among the consumers and there are citizen initiatives such as the petition of Femke de Jager. This petition will be in the end send to the Centraal Bureau Levensmiddelenhandel, the branch organization of the large supermarkets in the Netherlands.
If you want to make a difference you can sign the petition via Stop unnecessary plastic packaging in the supermarket! 
Hopefully, the bags with plastic waste on the beach will become less and less and our children can enjoy their future and the nature as our ancestors did.