Rhubarb sauce recipe
Have you ever eaten rhubarb sauce? Until last year it was just another plant for me. I knew it from my childhood as a kind of weed, but nothing more. Until a lady in Sweden where I was on vacation asked me would I like to taste some rhubarb sauce? I had never tasted this. In fact, I didn't know you could eat it:-).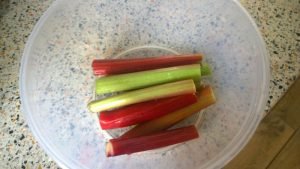 "The rhubarb has been in the spotlight for more than 5000 years, but initially only as a medicine" says Wikipedia. Around 1600 John Gerard, court botanist of the English king Charles I, discovered that the stems of the rhubarb can be eaten. You can buy rhubarb on the market in the summer, but you could also buy rhubarb from November on.
Do you know that eating with the seasons offers many benefits and is also healthy? What are the benefits? If you eat with the seasons you get a varied selection. The spring fruits and vegetables have different vitamins, minerals and bio active substances than the winter fruits and vegetables. And you need all these nutrients. So, the more varied you eat, the healthier you are.
In addition, you get a better price for what you buy. The value for money  in the season that they grow up is better.
The taste of seasonal fruit and vegetables is better too.
Out of season, growers must imitate food conditions through heated greenhouses or import the products from abroad. Seasonal fruit and vegetables are therefore more sustainable.
And since it is now the rhubarb season, I am sharing my favorite rhubarb recipe with you.
You will need these ingredients:
0.5 kg. rhubarb stalks
3 tbsp. water
honey or stevia to taste
1 cinnamon stick (optional)
2 star anise (optional)
This is how you proceed:
Wash the rhubarb stalks well. Cut them into pieces of approximately 3 centimeters.
Boil the rhubarb with the water in a cooking pan.
Add the cinnamon stick or anise.
Let the rhubarb boil for about five to five minutes and stir occasionally.
Allow the rhubarb sauce to cool and then add the honey or stevia.
You can eat rhubarb sauce hot or cold. You can do this as topping on yogurt, custard or another dessert.
Enjoy!
______________________________________________