Feng Shui bedroom: How you can design your enchanting Feng Shui bedroom already today
Have you ever heard of a Feng Shui bedroom? Possibly you did. But did you know it may tremendously improve your sleep and the sleep of your kids? According to Feng Shui some simple changes in your home will create a world of positive change in your life. Who would not like to benefit his everyday life and get a ton of fresh energy in return?
In this article I will discuss this few insightful questions which will blow away some of the magic dust resting on this enchanting ritual. Let's enjoy the benefits it brings to us today. So, go to your favourite reading place, install yourself comfortably and let's move on:-)

What is Feng Shui?
According to Wikipedia Feng Shui is a centuries-old pseudoscientific traditional practice originating from China. Feng Shui claims to use energy forces to harmonize individuals with their environment. With all my respect to Wikipedia I'll argue that whatever method or teaching that has proven itself and has been of service to people for centuries is simply not clever to be set it aside as pseudo.  So, let's close Wikipedia for now and head to other experts.
The literal translation of "feng" means wind and "shui" means water. Chinese culture associates wind and water with good health. They believe that the interaction of humans with their environment brings the life energy chi into a state of a natural flow. Thus it gives you more energy or another way around depletes your energy.
Chinese crafted this teaching to explain how to design your surroundings in harmony with the natural energy flow. Feng Shui layout explains how to bring energy back at places where there is lack of it.
Feng Shui has crafted own spatial arrangement and orientation principles to take into consideration when you design buildings, place furniture and possessions and even human bodies. It offers a unique view of the basic special elements to create a living space filled with balance, comfort, and harmony.
Which are the basic Feng Shui bedroom rules?
The basic Feng Shui tools are the Compass and the Bagua. The first instrument also called Luo-Pan, consists of bands of concentric rings arranged around the magnetic needle. The professionals use the Luo-Pan to access the deeper information of a building. The second tool, the Bagua is essentially a feng shui bedroom map of the energy in there.
There are three basic Feng Shui bedroom rules.
Qi
Chinese believe that the driving force of all that exists is the qi, the live energy.
Yin and Yang
Yin and Yang express the polarity in life. Symbols for the opposites, light and shadow, movement and stillness, man and women. When both are balanced this creates harmony. When there is too much of one or the other than the natural balance becomes disrupted.
The five elements
Feng Shui works with the traditional five basic elements water, wood, fire, earth and metal.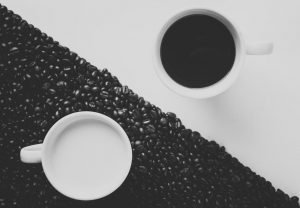 This ancient Chinese concept is most often applied to architecture and design, but could be used from choosing your house site to the choice of the name of your business.
There is a story about Mickey Mouse in Hong Kong who's channelling his chi 🙂 This story says that before Disney opened his doors in Hong Kong they hired a local Feng Shui layout master to help them choose the most favourable position of the front gate of the park.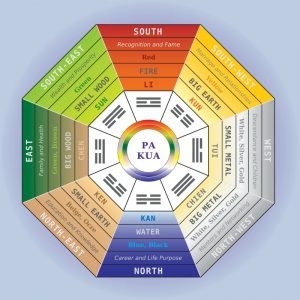 Which are the Feng Shui colors?
The use of the colors the right way is pretty complex and the feng shui bedroom map called Bagua is used as a guideline to get it right.
The colors used in Feng Shui are deep and ad at the same time elegant. These graceful colors work in correlation with the five elements.
Wood represents the energy of growth, vibrant health and vitality. It is also an expression of abundance and is relates to the use of Feng Shui bedroom plants and especially the money tree.
Fire: Red, Strong Yellow, Orange, Purple, Pink
These colors stand for passion and high energy. In your home or office, these colors will bring supporting energy to all your career efforts and will help achieve recognition.
Earth: Light Yellow, Sandy/Earthy, Light Brown
These Feng Shui bedroom colors represent nourishment and stability. It is needed to maintain your health and deep inner balance.
These stand for clarity and preciseness. They bring more sharpness, precision, and efficiency and will help you sustain the deep energy of calm, crisp clarity and eliminate distractions.
Ease and abundance are the characteristics of the colors associated to water. Balanced use of these would bring a refreshing energy of calm, ease, purity and freshness. The serene water element is also the ancient symbol of wealth and explains the use of fountains and Feng Shui bedroom mirrors in the Feng Shui bedroom layout.

Why would you want to have a Feng Shui bedroom?
Think for a moment, which room in your home you spend the most time in? I am sure that for most of us this is our bedroom. And just because of this simple reason if you had to choose to Feng Shui a room in your home it will definitely be the bedroom.
This room is the most personal to you, right? You spend many hours there in a more passive state of sleep. So, you are affected by the energies in that room.
This is the reason that also from Feng Shui layout perspective your bedroom is the most important room in your home.

What Feng Shui is good for bedroom?
The starting point of all your Fen Shui should be decluttering of the space you want to redesign. This is very important. You wouldn't necessarily need new pieces of furniture but you will need to declutter your living space!
Fix or throw away broken items. Things need to be in use or they shouldn't be in your home. Mental clutter happens when we leave a lot of unfinished tasks everywhere,
Next advise is that safety and comfort go before beauty. So, do not keep any big paintings or shelves on top of your bed. These stand in the way of the energy flow and stand in the way of your good night rest.
When choosing your Feng Shui bedroom colors use the Five elements. Wood, Fire, Earth, Metal and Water will help you avoid a uniform colour schema. Everything in white, for instance, can be harmful.
The accents you add to your bedroom depend on your individual preferences. If you desire more passion add some splashes of red. For more support and relaxation go for the Earthy and neutral Feng Shui bedroom colors. The blue and green shades promote healing and vitality.
Any sharp edges like a glass table shouldn't be in your bedroom. When you go for Feng Shui bedroom plants forget about the cactus :-).
Which Feng Shui bedroom tips do I have for you?
If you do not have a headboard, get one. The best ones are solid, not with bars. This represents support and stability in your relationship.
Place the headboard against a wall and leave some space on the other three sides of the bed.
Declutter under your bed too. Whatever you maybe have stored under your bed could be subconsciously creating blocks in your life. But, if you still have to utilize the space under your bed then store soft items related to sleep there. Things such as blankets, pillows and linen will be o.k.
Reduce EMF in your bedroom. You may be wondering what the heck is EMF now :-)? It stands for electric and magnetic fields created by electronic devices and power lines. There is a discussion going on how these influence our everyday life and our well-being. One thing is sure, EMF disrupts our sleep and circadian rhythms. Especially if you have trouble getting a good night rest buy the most simple alarm clock you can find and read only old fashioned books and say goodbye to devices.
Purchase a pair of nightstands if you don't have these already. They will help you create space on both sides of your bed. Moreover, two creates sense of balance and harmony, for you and also or your relationship.
Be picky when choosing artwork for your bedroom. Follow your own taste, but chose wisely. So, if you are looking for instance if you are looking for a partner avoid images of single people or objects. Place your artwork at eye lever to lift your life force energy, the qi. Aim to decorate with positive art that emphasises life and nature.
Reading your favourite book is a great way to prepare for a good night rest. When you have trouble sleeping you should not keep piles or shelves with books in your bedroom. Books contain tons of active energy thus they stimulate our energy.
Detox your bedroom 🙂 Yes, besides detoxing your body you can detox a room too! This will ensure you have a fresh foundation to build the energy in your bedroom or its chi.
What "detox" of your room means?
What do I mean by that is that you stop using toxic cleaning products and switch to green ones. Washing soda and cleaning vinegar can do miracles. The fabric softener besides softening your linen and its penetrating fragrance could promote intolerance or an allergy. I use cleaning vinegar instead. If you wish and can afford it you could switch to organic linens and sleepwear. In any case, avoid the use of synthetic fabrics.
Clear your space regularly.  Almost every old tradition or teaching has its own space clearing methods. I will recommend the one with salt. For thousands of years, people believe that salt has powerful healing properties.
How do you do this? There are two easy methods. One is with sea or whatever another salt you have at hand. The other is with a saltwater cure. I will explain how to do the first one as it's the easiest one.
How to cleanse your house with salt?
Get a few small saucers and place one in each corner of your bedroom. Put a small pile of sea salt on it. You want to do this in the evening.
In the morning pour all the salt from the saucers into the toilet and say to yourself something like: "Let with this salt all the negative energies flow away. Let my bedroom be full of light and good thoughts". And then flush it.
I would recommend doing this on three consecutive evenings. Each time use fresh salt and in the morning flush it away. Don't use the "dirty" salt again or for other purposes as it has absorbed the negative energy from your home space.
First of all your bed should be facing the door.
Next, you don't want any doors to open in line with your bed. Especially not that your feet point directly out the door.
There are no Feng Shui bedroom mirrors which face your bed. You shouldn't be able to see yourself in your Feng Shui bedroom mirror when lying on your bed. If you have some you could cover them with a curtain or fabric at night.
Avoid placing your bed under any low beams and sloped ceilings.

Can Feng Shui help you sleep?
Absolutely! In case you don't have any medical conditions which hinder your sleep you can definitely benefit from sleeping in a Feng Shui bedroom. Even if you sceptical about this ancient Chinese teaching, the changes are that your Feng Shui bedroom design will bring you a restorative sense of healing and relaxation. And this will give you a better night rest and more energy of course.
A good mattress will also do miracles for your sleep. Avoid the ones which have metal inner springs. Prefer to use a mattress made of natural materials. There should be absolutely no metal in your mattress. Ones made of latex, futon of foam are ideal to sleep on.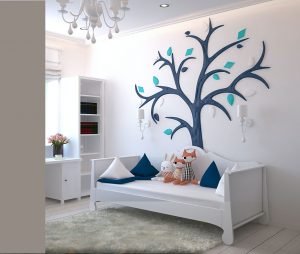 How to Feng Shui child's bedroom and how this can improve kids sleep?
Your child goes to bed on time, but after a while, he or she suddenly appears in front of you in the living room. You give him some warm milk and a few hugs and bring him back to bed. In a few minutes, he is again walking up and down checking up the whole house: "I can't sleep…" you hear his tired snuffing voice. So, does this sound familiar?
Nightmares, aches and restless sleep come in play when your child is troubled for some reason. One of these reasons could be the room where they are sleeping. Here is where Feng Shui can give you a helping hand.
There are a few Feng Shui bedroom rules which can be a good starting point for a Feng Shui kids bedroom.
You should prefer a room with a low ceiling for your child's bedroom. Rooms with high ceilings create a feeling that your child is being lost. If all your rooms have high ceilings you could think of some creative solution such as hanging a decorative garland. Or you could play with the Feng Shui bedroom colors of the wall which will create the idea of a low ceiling.
Choose low rounded furniture and soft and pastel-coloured rugs. The velvety and woolly materials will bring the nurturing feeling that your child is lovable.
Go for soft Feng Shui bedroom colors for the walls. Colors like peach, pink, pale yellow, brown, beige, cream, or taupe make us feel cosy and safe. Try to use the same palette for the bedsheets too.
However that looks maybe a bit too rigorous to some, but if you downtone the toy collection it will help your kids sleep better. Bright plastic toys that your child rarely uses should be the first to go. Instead to throw away the toys, you could also donate them. Don't project on your children your fear of scarcity. Let them put the bags with toys which will go away. This way the chance they get emotional about toys that are gone away will then be smaller.
Reposition their bed if necessary. Use the same instructions as you would with the bed of the parents.
Go for soft lights in your kid's room. For the reading of night time books buy a reading light.
Choose the right size for the bed of your child. It shouldn't be too big. Especially when it transitions from a crib to a toddler bed.
No electronics in your kid's bedroom! If you want your kid to have a good night rest and to thrive at school this is a no go.
Promote the child's bond with nature by placing a sticker or wallpaper of a tree on the wall. It shouldn't be very tall though.
And last but not least if your kid is bothered by nightmares it would be good to clear the room. You could do it the same way you clear a room with salt. 
Conclusion
Are you ready to roll up your sleeves and use the Fen Shui magic to design your own nurturing oasis and to start thriving again?
With the few basic tips, you have just learned you can create your own unique bedroom. It will not only bring you joy that you have created this amazing space yourself. You will get tons of energy and peace of mind as a reward.
So, why keep waiting? Dust off this creative spirit of yours and get to work!:-)
FAQ
What is Feng Shui?
Chinese crafted this teaching centuries ago to explain how to design your surroundings in harmony with the natural energy flow. Feng Shui layout explains how to craft your living space and bring energy back at places where there is lack of it.
How Feng Shui works
This ancient Chinese concept is most often applied to architecture and design. It could be used also from choosing your house site to the choice of the name of your business.
Why would you want to have a Feng Shui bedroom?
Which room in your home do you spend the most time in? It is your bedroom, right? At least for the most of us this is the case. You spend many hours there in a more passive state of sleep. So, you are affected by the energies in that room.