How to save money when you are eating healthy

How to eat healthy when you are on a budget
Eating healthy  is very popular nowadays. People become more aware that "if you put bad fuel in your engine, you will have to repair your car more often." 
But, doing your groceries when you want to eat healthily is quite challenging, especially if you are on a tight budget. Junk food is everywhere and doesn't cost a dime.
In this article, I will give you some tips and ideas on eating healthy, which are easy to put into practice. These will save you money and also time at your grocery store.
Look for sales and special coupon offers
Look out for sales on products you know you regularly use.
One of the best ways to find sales and special coupon offers is to review the weekly folder you get from your grocery store. Do this before you go shopping. You can find the weekly sales and specials also in the store's ad in the local paper, on the store's website, and often on the store's app as well.
Choose the store brand whenever possible
Oftentimes the home brands of the stores come from the same producer as the A-brands. They differ in their label and price, but not quality. So, if you buy the home brand instead of a well-known A-brand can save you money.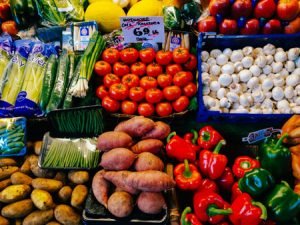 Monty planning
With monthly planning, you would have an indication of what would you need to buy the coming period (could be less than a month). You would also know how much you need and what does it cost you to keep eating healthy.
A week menu makes eating healthy easier 
Imagine, you are coming home after a whole day of hard work and you haven't thought of what are you going to put on your table this evening. You are tired and don't feel like going shopping right now. We have all been there, right?
In the busy life you have, it will save you time and sometimes the frustration of trying to figure out what to prepare for dinner in the evening if you have prepared a week menu.
Home delivery
Lately, there are many new online shops which deliver to your doorstep. The problem here is that you are charged delivery costs and the bigger amount of money you spend in one time. But, if you look at it in the end
the effect is absolutely positive for your monthly budget. 
Take food from home and keep eating healthy at your work too
This way you will not only save money, but there are more benefits to enjoy. When you prepare your food at home you know exactly what is in there and that there are no unnecessary additives.
Moreover, most probably your colleagues also enjoy spending their lunch break outside. So, you can just grab your lunchbox and go have a chat.
Grow your own food (whenever possible)
This seems like an interesting one. If you have the possibility, space, time and green fingers you could experiment with this idea. It will not only save you money, but you will also be happy to see the fruits of your efforts. You will also enjoy eating fruits and veggies with no pesticides.
Substitute recipe ingredients when you have something suitable on hand
Suppose you are about to start preparing your dinner for tonight, but you realize you miss one of the ingredients. So, what would you do? Rush to the store? Of course not. Don't panic but just look at what you have at hand and substitute the missing thing. That will save you time, give you peace of mind and maybe you will like it this way even more:-)
Go for bulk over convenience items
To buy rice or pasta that can be prepared in one minute maybe convenient, but mostly these goods are more expensive. When you buy pre-prepared foods like pre-cut veggies or fruit you will spend more money.
Consider more than one grocery store for your shopping
Although it may seem easier to shop for groceries at the same store week after week, being open to shopping for different items at different places can lead to some big savings.
Take a look at your cart and ask yourself if there's anything you don't really need. This way you will buy only what you really need.
When you try to buy organic as much as you can, but the price tag is holding you back
Consider the fact that some foods contain more pesticides than others. Follow your common sense and prefer to buy organic the ones you eat as a whole. These are kale, strawberries, spinach. You don' t necessarily have to spend more money on fruits and veggies you have to peel before eating them. The EWG's 2019 Shopper's Guide to Pesticides in Produce™ is useful to check out.
Useful tips to remember:  
Eat seasonal fruits and vegetables. Eating with the seasons is not only cheaper, but the fruits and vegetables have higher nutritional value in the season that they usually grow in nature. They are tastier too. And they are available everywhere.
Buy locally grown food (whenever possible)
Use fresh spices. You should include these if you wish to eat healthily. You may grow them on your balcony too.
Put the leftovers in action. Suppose, you prepare a chicken. What do you do with the bouillon? I use it when I cook rice for instance. Actually, the rice dish tastes even better this way.
Use modern cooking appliances. These will not only save you time which is so precious to all of us. These multi cookers, slow cookers and air fryers will save on electricity too.
Conclusion
I hope you now know that healthy nutrition is not necessarily a priority of people with large incomes. Often it's about eating mindful and mindfully doing your groceries. Over time, you will find your own way, but these few tips will give you a good start in the right direction.
I can imagine that after reading this post you could have some questions. I would love to hear them.
But, maybe you have your own shopping routine already? I will appreciate it if you would like to share it.