The top 7 Aloe Vera benefits for your skin and more
You probably know that the use of  Aloe Vera gel benefits your skin, but do you it is good for the rest of your body too? Do you want to know the top seven benefits of Aloe Vera for your skin? It helps your hair grow, lowers the blood sugar levels, reduces constipation and much more.
It is a multipurpose problem solver!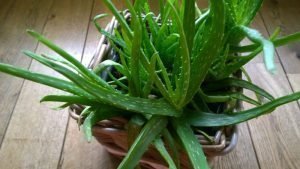 What is Aloe Vera gel and how does it work?
Aloe Vera gel comes from the Aloe Vera plant. This is a medicinal plant that has been used for thousands of years. It originates from the Arabic countries. Nowadays it grows all over the world in tropical climates but is successful indoors as a potted plant too.
This plant has thick short-stemmed leaves which store a lot of water. Each leaf is full of a slimy tissue full of water. This tissue is the gel of the plant. This gel contains the most bioactive compounds in the plant. These active compounds are vitamins, minerals, amino acids and antioxidants.
The plant is used a lot in the pharmaceutical, cosmetic and food industries.
Nowadays you could buy leaves in a store or even order them via the internet.
How to harvest the Aloe Vera plant?
You can very easily harvest the plant for gel and for juice. You need a mature few year old plant though. If you want to harvest aloe more often than you will need few grown-up plants. So, how do you do that?
Remove three or four of the thickest leaves from the outer parts of the plant.
Watch out that these leaves are looking healthy and are mold-free.
Cut these few leaves to the stem.
Avoid the roots.
Wash the aloe leaves thorough and dry them.
Trim the prickly edges of the leaves with a sharp knife.
Allow the yellow juice, the so-called latex to drain from the leaf. Put the leaves upright in a cup and let the yellow resin to drain out. If you don't plan to use the latex just throw it away.
Using the knife or a potato peeler separate the thin plant skin from the gel inside the leaf.
What you will be using is the gel inside the leaves. Collect the clear aloe gel by scooping it with a spoon until there is nothing left in the leaf half.
Cut the gel in slices or blend it in a blender to have a smooth gel.
Consider adding vitamin C or vitamin E to the gel as a natural preservative
When you wish to keep the gel for a month or two add 500mg. vitamin C powder or a few drops of vitamin E to every 1/4 cup of gel.
Keep the gel in a clean glass jar in the refrigerator.
If you are more visually oriented you may check this YouTube video of  The Lifestyle Luxe.
The lady in the video does not leave the latex to drain from the leaf, but it is a good visual of how to prepare homemade Aloe Vera gel.
Fresh Aloe Vera gel and how to use it?
You could apply the fresh gel directly or mix it together with other ingredients. This way you can make your own beauty product or add it to food, smoothies or drinks.
What are the benefits of Aloe Vera plant
Antibacterial. antioxidant, soothing, moisturizing, rejuvenating and healing.  At a glance the benefits of Aloe Vera gel are numerous. Let's have a better look at Aloe Vera gelly benefits.
First what comes to mind when you think about Aloe Vera is the use of the gel for your face.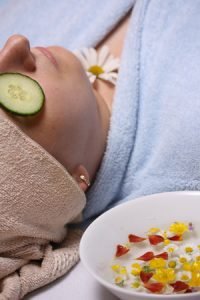 Aloe Vera gel for your face
Aloe for face is very popular, but what exactly does Aloe Vera to your face? Why is Aloe Vera gel good for your face?
There are a lot of ways you could make use of Aloe Vera on your face.
Moisturizes
You could, for instance, use Aloe Vera to moisturize your face. To moisturize with it you could apply the fresh gel on your face every day and add it to your daily facial care.
Reduces wrinkles
There is evidence that topical use of Aloe Vera gel may slow ageing of your skin. It increases collagen and improves the elasticity of the skin and this way helps reduce wrinkles.
Take a small amount of the gel and massage in a circular motion for a few minutes. You could add one vitamin E capsule to a teaspoon of the gel and use it in the same way. The malic acid in the gel will help tighten loose skin and get rid of sagging skin.
Make the massage every evening before you go to bed and very soon you will notice improvement.
Treats acne
Beyond its antibacterial properties, the gel has salicylic acid, acting as an exfoliant that unclogs pores and acts anti-inflammatory.
There are a lot of recipes for homemade aloe vera anti-acne remedies. Many of the conventional acne treatments use this plant as an active ingredient too.
Benefits of Aloe Vera for your skin
Aloe Vera helps to treat burns
The aloe gel works excellent when it comes to helping with sunburns. Take some fresh gel and spread it over the burnt skin. Reply this few times a day.
It is best to use chilled gel.
Instead of the fresh product, you could also use the gel from the store. Please make sure to check the label before you buy it if it is a pure product. Manufacturers often add water and other fillers like preservatives, thickeners, or colours.
Studies suggest Aloe Vera gel is an effective topical treatment for first and second- degree burns.
The benefits of aloe vera juice are numerous. Some of the ways you could enjoy the benefits of the juice of this plant are by using it as:
Makeup primer
First of all, what Aloe Vera juice is good for is your face. You could use it as a makeup primer and apply the juice on your face before you use foundation.
Makeup remover
Fresh Aloe Vera juice can be used as a make up remover. Just as the gel you could buy Aloe juice too. Make sure you buy pure juice, without additives and other chemicals.
Treatment for irritated scalp 
Because of its soothing, anti-inflammatory and moisturizing benefits the juice can help with dry scalp. Apply the juice directly to your scalp and leave on for a few minutes before washing out with shampoo.

Other benefits Aloe Vera offers to you
Aloe Vera has over seventy-five active ingredients which help nourish your hair roots and enhance hair growth. The amino acids penetrate the hair and make it look thicker. The enzymes help to clear the dead cells and make your hair shinier.
Moreover, it is recommended for hair loss and baldness by Ayurveda and Materia Medica.
The gel of the plant is also being used as a treatment for patients with inflammatory bowel disease. Studies have shown that it has a therapeutic effect on inflammatory bowel disease.
Aids digestion and cures stomach problems
Aloe plant contains several enzymes that help to break down the sugars and fats. By drinking the juice of this plant you help your digestion run smoothly.
The juice is also beneficial for people who suffer from ulcerative colitis.
By improving digestion Aloe Vera juice will help you with your weight maintenance.
Detoxifies and purifies the body
Detoxification is critical when it comes to our health. Our bodies have several channels, such as the skin, lymph, lungs, liver, kidneys and bowels which when functioning properly ensure the cleansing of the whole system. When our body receives proper food, water, sleep and exercise, the natural cleansing processes are activated. This happens at both deep tissue and cellular level. Unfortunately, we do not give our bodies what they need to execute this process and that leads to a build-up of toxic waste. Environmental pollutants can add to this burden.
Moreover, some conditions stay in the way of the cleansing of our body too. These are poor digestion, food abuse, constipation and slow bowels.
These symptoms warn you that you probably have accumulated to much garbage in your body: fatigue and brain fog, joint pain and headaches, bad breath and troubled skin, weight gain and failing health.
The ingredients of Aloe Vera juice make it so useful when it comes to detoxification. It consists of about twenty minerals. Some are calcium, magnesium, chromium, zinc, selenium, iron, sodium, potassium, and copper. Such useful enzymes as lipase and amylase help to break down sugars and fats. This juice has more than 20 amino acids and contains vitamin B12.
Please note that before you decide to start any kind of detox you should make sure you are in good shape. It is wise to consult your physician.
Do not start with detoxing in case you are pregnant, are breastfeeding or have some medical condition.
Always start with a low dose.
Aloe Vera gel regulates blood sugar
The gel could have anti-diabetic properties when taken orally. Preliminary research found it to be effective at lowering blood glucose levels, supporting its use as a treatment for diabetes.
Tooth decay and diseases of the gums are quite common problems. When used as mouth wash Aloe Vera juice is just as effective as the common mouth wash. It has one advantage though. It contains no chemicals like chlorhexidine, the active ingredient of the regular mouth wash.
Helps with allergies and asthma
Asthma is an allergic reaction of the body to specific allergens picked up in the air. An asthma attack causes the respiratory tract to close as a reaction to the intruder. This way a person suffering from asthma has begins to show asthmatic symptoms such as difficulties with breathing.
Research shows that Aloe Vera could be of great help for people who suffer from asthma and have asthma symptoms. The scientists state though that: "However the activity against asthma becomes ineffective if the patient has been previously administered with steroid drugs."
In contrary to the conventional treatment methods as medications and inhalers Aloe Vera has a more holistic approach. It will not be helpful if you wait to take it during an asthma attack.
This plant has the quality to soothe inflammation in the body. Inflammation is also part of the problem with asthma. By soothing the inflammation in the body it can decrease the risk of asthma attacks.
When taken daily Aloe Vera gelly or juice can decrease the frequency of the asthma attacks.
The same goes for the rest of the allergic reactions of the body. It might be pollen, animal dander, dust, molds or certain foods like Gluten, Milk, Sugar, Eggs, Peanuts and Tree Nuts that trigger your body to respond. Daily intake of Aloe might help you to diminish the risks of these allergic reactions.
Is Aloe Vera safe?
Using this plant is generally safe. Like with everything else you have to be cautious about the quality of the product and the quantity you take.
Be careful if you are on diabetic medication or you have heart or kidney disease, liver problems or electrolyte imbalances. Avoid the intake of Aloe Vera latex as a laxative.
People with an allergy to plants like onions, tulips or garlic must avoid it too.
Do not take Aloe Vera if you are pregnant or are breastfeeding!
Another thing to consider when you wish to use the juice is the difference between coloured vs. decolourized aloe juice. The non-decolourized, not purified Aloe Vera juice can have unpleasant side effects, like diarrhoea and cramping.
So, when you wish to buy Aloe juice look for the following on the label: purified, decolourized, organic, safety tested.
Conclusion
So, now you know what Aloe Vera plant could do for you. In a nutshell,  Aloe can help you with different conditions from head to toe.
How do you think, could it be useful for you? Or do you have already some experience with Aloe Vera gel or juice? I would love to hear what did it help you for?
Frequently Asked Questions
Why Aloe Vera is good?
Aloe Vera plant is packed with active compounds. These are vitamins, minerals, amino acids and antioxidants.
What is Aloe Vera good for?
Aloe Vera gel benefits your skin, but it is good for the rest of your body too. It helps your hair grow, lowers the blood sugar levels, reduces constipation, reduces inflammation, detoxifies and purifies the body.
Where Aloe Vera is grown?
It originates from the Arabic countries. Nowadays it grows wild all over the world in tropical climates and is cultivated for agricultural and medicinal uses. This plant is successful indoors as a potted plant too.