Best natural mosquito repellent
Do you want to get outdoors without the annoying red itchy spots all over your body as a bonus? A mosquito repellent can help you out.
Imagine a nice evening in the garden spent with your family around the BBQ. Or a quiet "me" time with a book and a glass of wine. An evening out with friends on the terrace of a summer bar. Imagine…bang, here is another one, hanging on your arm exactly when you are trying to reach out to your glass and to take a sip.
Right here and right now your imagination takes a U-turn and bounces back to reality. How nice is it to be covered with red spots and swelled bumps and keep itching and scratching all the time?
In this article, you will learn how you can easily make a natural mosquito repellent which is non-toxic and child-friendly. And on top of that, it works!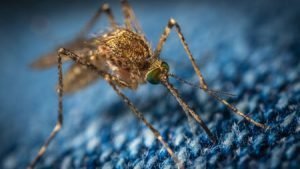 Mosquito repellent keeps the bugs away.
There are a lot of commercial mosquito repellents out there. Some of them work, others don't. Most of them contain a chemical called DEET. Only the idea to smear my entire body with some chemical feels itchy. But, maybe it's just me, not all the chemicals are harmful you might think. Let's see what the experts are saying on this matter.
DEET – with or without it?
DEET was developed by the U.S. Army in 1946 for protection of soldiers in insect-infested areas. Insect repellents containing DEET have been used by the general public in the United States since 1957.
There are a lot of sources stating that in concentrations up to 30 % the repellents containing DEET should be safe. You should take some precaution measures though.
According to KidsHealth a repellent with DEET should not be applied more than once a day.
Mosquito repellent containing DEET  is not recommended for babies younger than 2 months old.
It should be not used in a sunscreen-bug spray combination.
Do not spray it around the mouth, eyes and hands.
Some sources, like Dr Axe, warn about the dangers of DEET. The allergic reactions are the least bad ones described.
Anyway, I would say if there is an alternative for a chemical repellent I would prefer to keep the bugs away that way. And what do you think about it?
No DEET. And what then?
Some people are not so sensitive and attractive to mosquitoes. The bugs just don't like them that much and stay away:-) Unfortunately, my family is not that lucky. If we want to have some fun time outdoors we have to keep these guys away with safe DEET alternatives.
This summer I came across this new recipe I want to share with you in a moment. Before I do this I want to tell you that it is a remedy you should give some time to figure out for yourself if you are happy how it works. Leave your conventional DEET repellent for a few evenings in the bathroom drawer and just give the new natural mosquito repellent a chance. And as a bonus you get a pleasant aroma spreading around.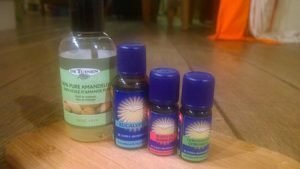 Homemade natural mosquito repellent. Made in five minutes. Plus the recipe:-)
You will need these ingredients:
50 ml. – Sweet Almond oil
25 drops – Eucalyptus essential oil
15 drops – Rose essential oil 5%
15 drops – Lemongrass essential oil
That's all.
This is how you proceed:
Put all the ingredients in a glass bottle with a pipette or a small opening. This way it will be easy for you to apply the oil without spilling it.
Shake the mix to combine.
Note that I am not using any alcohol to dilute the oils. This way your skin will not dry out but will get nourished. I am not using water either. So, you get a nice a gentle scented bug oil as a result.
Apply the oil all over your skin just before you go outside. Spread it as a thin layer all over the uncovered parts of your body and avoid your clothes.
This way you will protect yourself for a few hours of all these little predators waiting for you to come outside.
But, if you anyway get a random bug bite I will soon share my remedy for a homemade anti-itch oil.
I do recommend you do spot testing for allergic reactions before you start using a new product on your skin.
Conclusion
So far so good. Now it is your turn to prepare the mixture and try it out. I am really curious about how it works for you.
What are your tricks to keep the insects at bay? Which do you think is worse, the mosquitoes or the chemicals in the conventional repellents?